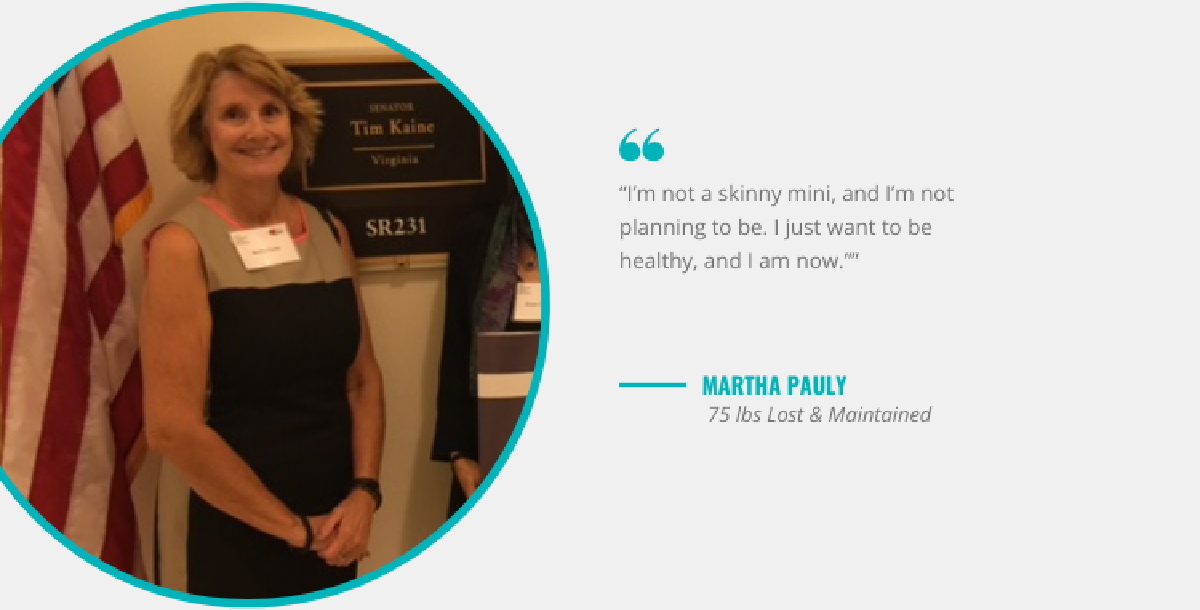 by Caitlin H,
May 10, 2021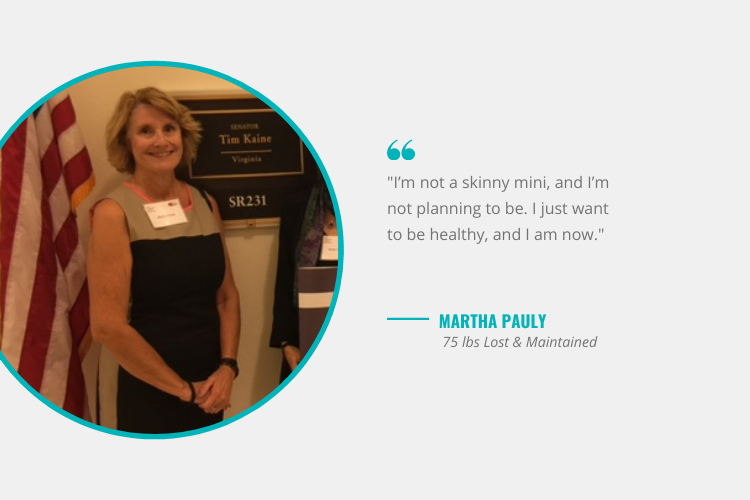 Name: Martha Pauly
Age: 67
Occupation: Retired social worker
Meal Plan: Balance
Favorite Meal: Blackened Salmon
Start-date: September 2008
Starting weight: 225
Height: 5'9"
Pounds Lost: 75
Activity Level: Kayaking, dancing
When I get a craving, my go-to trick is: I go to the grocery store and I'll buy one slice of carrot cake. And I can do that periodically, and I'm fine.
My favorite app for tracking weight loss is: I used a scale the whole time. Back when I started, I weighed myself every day, and as it slowed, I'd cut back to weighing myself once a week or twice a week.
When Martha Pauly, a single mom of two, worked as a social worker in Virginia, her life was always busy and on the go. She'd often find herself inspecting facilities at odd hours.
"I was starving because I'd work right through lunch, so what did I do?" Martha said. "I would go right through the drive-thrus. I wasn't going to make lunch. I didn't want to go shopping."
That was back in 2008, and the poor meal choices caused Martha's weight to creep up to 225 pounds.
"I found Diet-to-Go, and I loved that they were local," Martha said. "I loved the meals because I could go through lunch and then go to the office and heat it up in 3 minutes — drive right past the drive-thru."
Martha said the meals were quite the change from frozen grocery store meals she'd tried.
"Diet-to-Go meals were so good and so filling, which was not my experience with frozen," Martha said. "I'd eat one of those and go, 'Ok now where's my meal?'"
Martha said the quality of the meals and the fact that they were nutritious and filling helped her stick with the program, shedding 75 pounds over the course of a couple years.
"At first [the weight] just fell off," Martha said. "Then the body gets used to it. If it wasn't a whole pound, it was part of a pound. It was slow and steady from there, and that worked."
Martha said it was also empowering when her friends and colleagues noticed. "The way my job was, I had to go inspect a day care every 6 months, and then I'd walk in, and they'd go, 'OMG you look fabulous,'" Martha said. "I got that a lot, even to the point where someone asked me if I was okay.
"With my friends, it was gradual. Finally someone said to me, 'Wow. Where did your butt go?' And that part was really nice. Plus, I just feel better."
Plus, the program was simple, and it was something she actually liked.
"In addition to being healthy, it's good portion control for me," she said. "I don't have to cook it, shop for it, or fix it. It's been a wonderful answer. And the way the program has evolved, I love the substitutions. It's very flexible."
Martha has stuck with Diet-to-Go since 2008, and she credits it with also helping her tastes change, too.
"I don't want fat as much," she said. "I don't want sugar because I'm not used to having it anymore. My stomach shrank and that makes a difference, so I eat less. So it doesn't take that much to fill me anymore."
Even through hardship, Diet-to-Go was there. When Martha's 30-year-old son passed away in 2016 through a condition he was born with and through no fault of his own, she gained 20 pounds.
"I got rid of the weight again very quickly, and that was just with Diet-to-Go meals," she said.
Martha said she's "not a fan" of gyms and working out, but she has been able to do fun activities such as kayaking, country line dancing and walking her dog.
"I'm not a skinny mini, and I'm not planning to be," Martha said. "I just want to be healthy, and I am now."
Do you have a Diet-to-Go success story to share? Email us at support@diettogo.com with "Success Story" in the subject line!