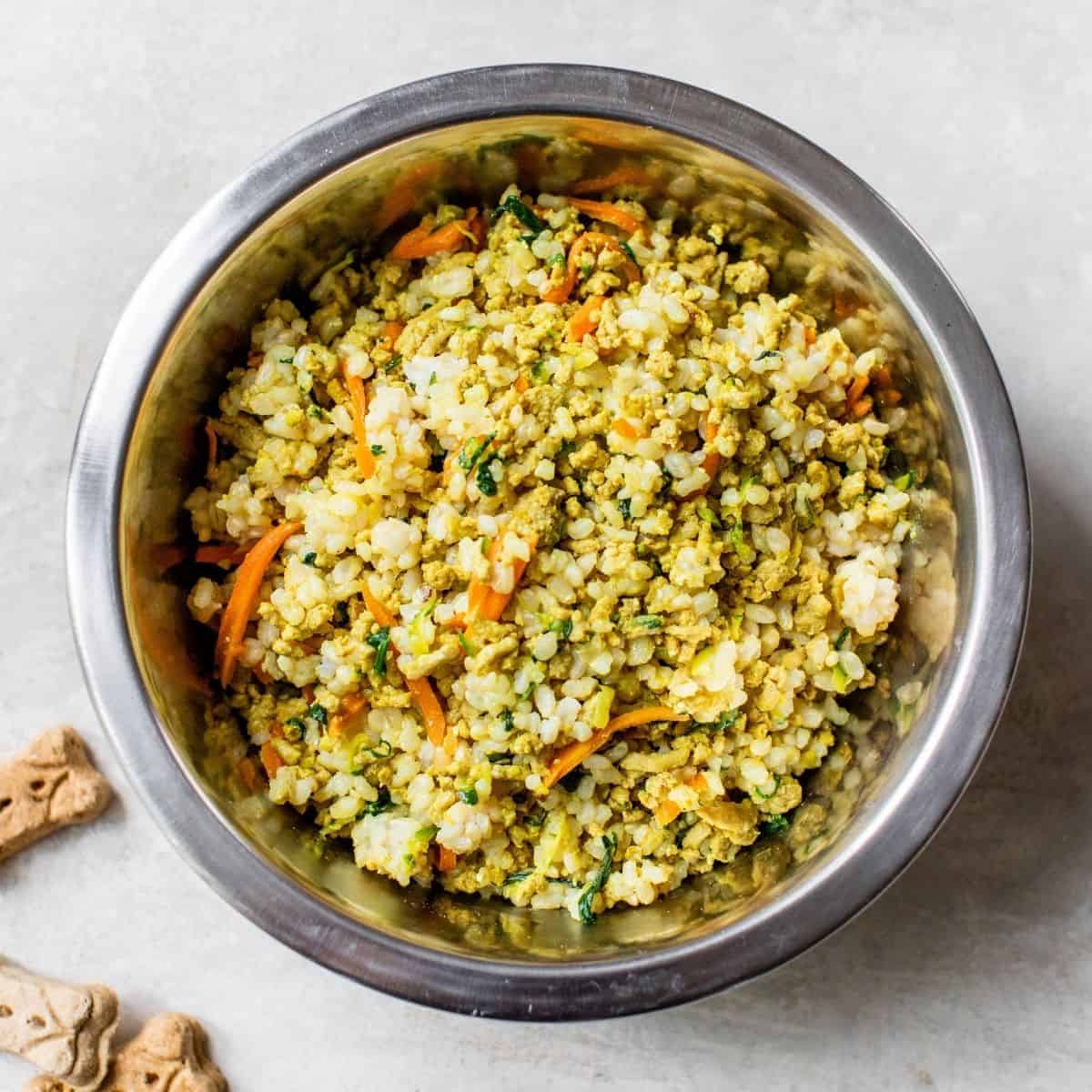 Learn how to make nutritious dog food at home. Your furbaby will love their meals, and you'll love that this recipe for homemade dog food is easy and made with whole-food ingredients you recognize!
My dog, Charlie is 4 year old and I recently decided to start making his food from scratch instead of feeding him store-bought dog food. If everyone else in our house is eating Clean & Delicious, why shouldn't Charlie?
There are so many different meal options you can create for your dog when making homemade dog food. I'm going to start with a pretty straightforward, well balanced recipe. This is a great starter recipe, made up of ground turkey, veggies and brown rice. 
Ingredients needed for this homemade dog food recipe:
This DIY dog food made at home is filled with rich protein, vegetables, and healthy grains. Here's what you'll need:
Coconut oil – provides a variety of health benefits for dogs, such as improving the skin and coat, increasing energy, aiding digestion, and reducing allergic reactions, just to name a few. And just like us, your dog needs healthy fats in their diet.
Ground turkey – will add necessary protein to your dog's diet, as well as important vitamins and minerals.
Veggies – this homemade dog food recipe uses a mix of zucchini, spinach and carrots. All are safe for dogs and will provide your baby with a variety of nutrients.
Turmeric – a dog-safe seasoning that also provides antioxidants and anti-inflammatory properties.
Egg – for extra protein and nutrients.
Rice – a complex carb that provides energy and aids in gastrointestinal function.
How to make homemade dog food:
Making homemade dog food is a cinch! Here's a quick rundown of the process:
Brown the turkey. Heat a large skillet or pot over a medium-high heat. Add in the coconut oil and turkey and sauté until it is browned and cooked through, about 10 minutes.
Add the veggies. Reduce the heat to medium and stir in the zucchini, spinach, carrots and turmeric. Cook, stirring occasionally, for 5-7 minutes, until the vegetables are tender.
Mix in the egg. Turn off the heat and and crack in the egg. Let the egg cook in the hot food, mix it around to ensure it mixed through and cooked through.
Stir in the rice. Add the rice and stir it in with the other ingredients until everything is well combined. Cool and serve!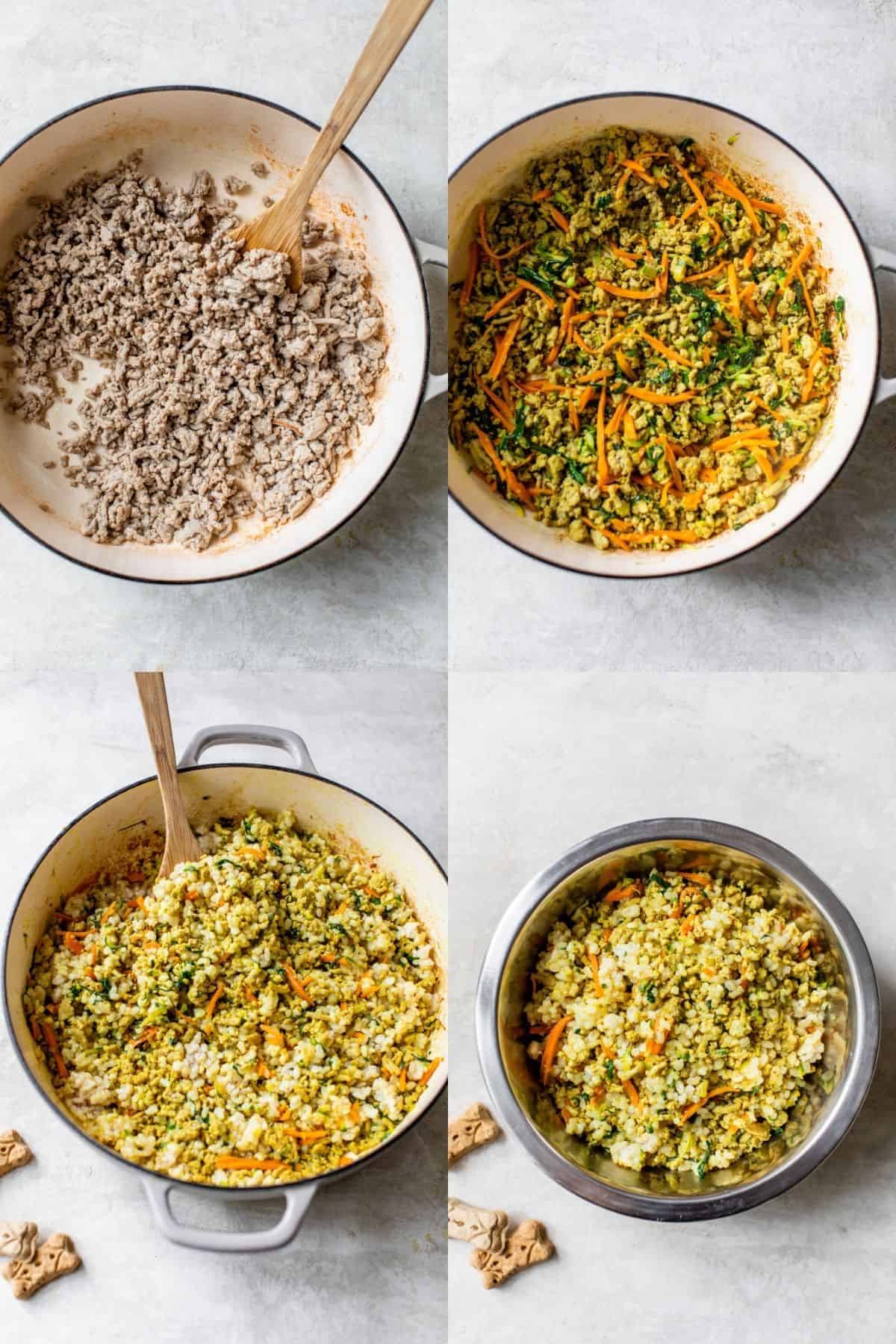 Recommended serving size for homemade dog food:
The amount of homemade dog food that your dog will require is dependent upon how much your dog weighs and how active he or she is. This amount varies from dog-to-dog. I suggest talking to your vet and getting their advice on a good starting point.
You can also monitor your dog to make sure they are maintaining their weight and staying happy and active.
This recipe makes about 6 cups of food, which is 3 days worth of food for Charlie who is about 45 pounds. You can easily adjust this amount based on the weight of your dog. Also, feel free to scale this recipe up and double or even triple it, if you wanted to cook less often.
Tips for making your dogs food at home:
If you're not ready to make the leap to cooking all of your dog's food, try just adding some real, whole foods to their kibble. You can start with simply stirring in a scrambled egg, mixing in some chopped apples or carrots, or adding a small amount of the homemade dog food in with their normal kibble. 
You should be able to serve this homemade dog food to your dog either hot or cold. I've found that dogs love this dog food so much, that they are not picky about how it's served.
It's not usually a good idea to abruptly change your dog's food. Start transitioning them to homemade food by mixing some of this in with their regular food or kibble for a few days until they are used to the new food. Your dog's belly will thank you. And again, remember to always discuss with your vet before feeding your pet something new.
To give your dog a variety of different nutrients, use different meats, fruits, and vegetables to make your dog's food. However, if your dog has a sensitive stomach, it might be best to stick to one combination that you know works. 
Foods not safe for dogs:
The most important thing to know when making homemade dog food for your dog are the foods they should NOT eat.
You can do a quick google search for an all inclusive list or buy a doggie cookbook for reference. Here's a list from the Humane Society of foods that can be poisonous to pets. Be sure to take the necessary precautions if you plan to start cooking for your dog, but also know, there's really not that much to worry about!
Here are some common human foods that should not be fed to your dog:
Garlic
Onions
Chocolate
Raisins
Grapes
Kale
Cooked bones
Soy sauce
Avocado
Charlie LOVES his homemade food and I'm excited to experiment with new recipes and treats for him, so if you want to see more recipes for your pup, let me know in the moment section below! 
Healthy dinner options:
Looking for some of our favorite family-friendly dinner options? Give these a try:
If you make this homemade dog food recipe, be sure to leave a comment and ★ rating below letting me know how it turned out. Your feedback is so helpful for me and our Clean & Delicious community (thank you!).
Homemade Dog Food
Learn how to make nutritious dog food at home. Your furbaby will love their meals, and you'll love that this recipe for homemade dog food is easy and made with whole-food ingredients you recognize!
Servings: 6 cups
Calories:
Ingredients
1

tablespoon

coconut oil

1

pound

ground turkey

1

large zucchini

shredded

1

cup

baby spinach

finely chopped

1

cup

shredded carrots

1/2

teaspoon

turmeric

1

egg

3

cups

cooked rice (I like using frozen brown rice)
Notes
*Store leftovers in an airtight container in the refrigerator for up to one week or in the freezer for up to 3 months.
Makes 6-7 cups.