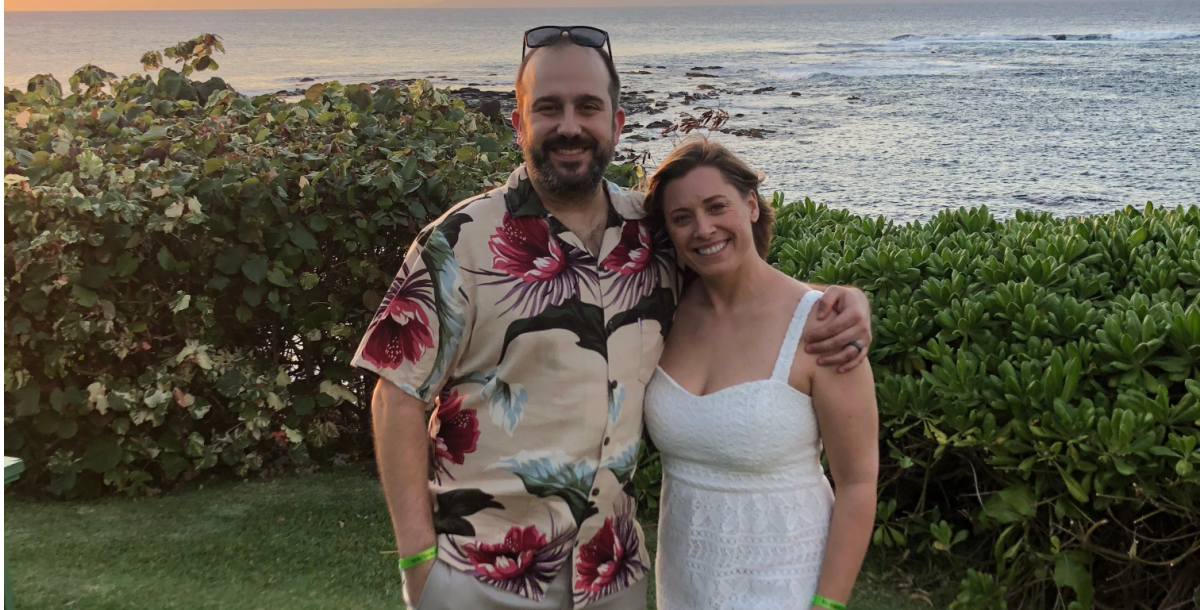 by Caitlin H,
Apr 26, 2021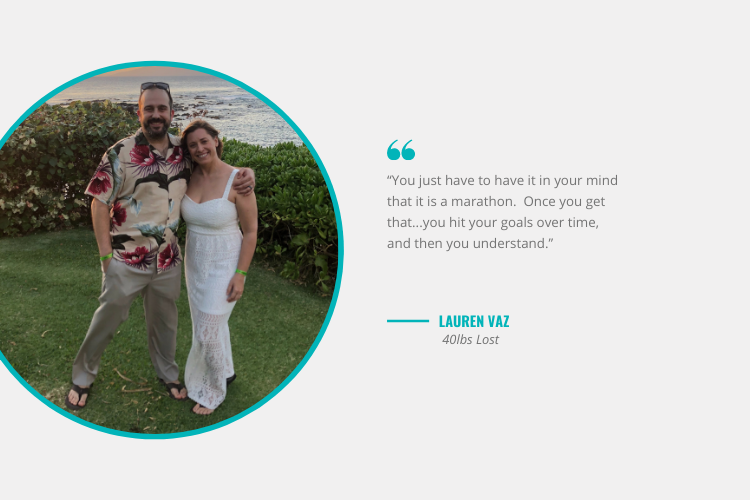 Name: Lauren Vaz
Age: 40
Occupation: Senior procurement manager
Meal Plan: Balance
Favorite Meal: Asian Meatballs
Start-date: January 2020
Height: 5'6"
Starting Weight: 199
Pounds Lost: 40
Goal Weight: 150
Activity Level: Daily walks, hiking, roller skating
When I get a craving, my go-to trick is: Drinking water. I use my Tritan Water Bottle to remind me to drink water almost every hour. If I feel like I'm hungry, I'm probably just thirsty. If I'm still hungry after drinking the water, I eat a sugar-free Jello or cucumbers.
My favorite app for tracking weight loss is: Fitbit
Finding lasting, long-term success when it comes to weight loss isn't something that happens overnight — it's a marathon, not a sprint. That's the message Lauren Vaz wants to send, and it's a mindset she's embraced whole-heartedly when it comes to her own weight loss success.
Lauren started on her Diet-to-Go journey in January 2020 and has steadily lost 40 pounds over the course of a year, reaching her goal of 40 by age 40.
"You just have to have it in your mind that it is a marathon," Lauren said. "Once you get that…you hit your goals over time, [and] then you understand."
Lauren, a full-time senior procurement manager and mother of two little girls, said she came to that realization whole-heartedly over the last year as she worked to shed the weight by eating Diet-to-Go's healthy, nutritious Balance Plan meals.
Over the holidays, for example, Lauren adjusted her mindset to maintenance mode so she could enjoy the occasional dinner with her family and friends.
"What I planned to do over the holidays was maintenance," Lauren said. "I wanted to get through the holidays and not GAIN weight, and I successfully did that."
"I kept eating my Diet-to-Go food. I didn't go crazy," she added. "I enjoyed eating food when I went to my parent's house. I had Thanksgiving dinner. I tried to make sure I didn't go overboard."
Once the holidays were over, Lauren got right back on track, sticking with her Diet-to-Go meals and daily walks.
"It can't be all or nothing, because then I won't do it," Lauren said. "I want to make sure I'm enjoying life."
Lauren also makes sure she has measures in place to ensure she doesn't let the COVID-19 pandemic and working from home become an excuse to munch mindlessly and gain weight.
"I strategically do not buy foods that I would snack on," Lauren said. "I don't grocery shop. I send my husband with a list, and he never deviates from the list. We don't buy chips. I love candy and cakes and sweets, but my kids aren't into it. So, we don't buy it."
Making sure to eat at specific times is also key, Lauren said.
"I eat my breakfast, I eat my lunch. I make my dinner," she said.
And, since Lauren struggles with a tendency to late-night snack, she uses the trick of going upstairs in the evening.
"I just stay up there, and then my husband brings me tea," she said. "And, if I really want something, I may eat some diet ice cream."
Lauren's persistence and patience has paid off. She recently returned from a trip to Maui where she was able to wear a dress she hadn't worn since 2004, as well as walk on the beach comfortably in a swimsuit.
"I was a size 16 when I started, and the dress is a size 10," she said. "It was awesome. … I've got all these new bathing suits I got to wear, too. Before I used to wear cover ups … and I never wore them. I just wore my bathing suit and a pair of shorts. I don't need coverups anymore. I brought them, but I never used them. … It was so great to walk on the beach and feel so great."
Lauren said her hope is that others set reasonable expectations and be kind to themselves.
"I see people get discouraged — everyone's journey is going to be different," she said. "You're going to hit plateaus. But you just have to see it through. Nothing feels as great as when you can get into that outfit that you couldn't wear for so many years, and you feel so good about yourself."
Do you have a weight loss success story to share? Email support@diettogo.com with "Success Story" in the subject line!
————————————————————————————
Author: Caitlin H

Diet-to-Go Community Manager
Caitlin is the Diet-to-Go community manager and an avid runner. She is passionate about engaging with others online and maintaining a healthy, active lifestyle. She believes moderation is key, and people will have the most weight loss success if they engage in common-sense healthy eating and fitness.